Sand Blasters
SBG-512
New Type Sanding Gun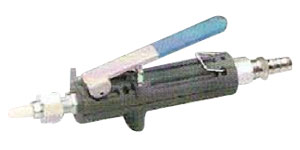 FEATURES:

Suitable for use on sandblaster SB-210, SB-320, and SB-520.
An innovative sandblaster gun provides comfortable operations.
Rugged, lightweight construction.
Four sizes of ceramic nozzle for choice- 2.4 mm, 2.7 mm, 3.2 mm, and 3.6 mm.
Standardly furnished with one 2.4 mm ceramic nozzle.
1/2" adaptor is standard, 1/4" is optional.