Printing Equipment
-
Pad and Screen Printing Supplies and Accessories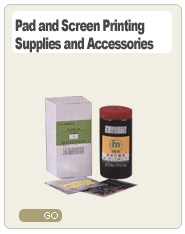 Screen fabric


The screen mesh varies with the products to be printed. 100 mesh ~ 450 mesh per linear inch, Nylon, Polyester.

Photo Sensitive Emulsions


Solvent Resistant Emulsion: suited for solvent resistant stencils and solvent based inks for printing on PVC, PS, PE, glass and stationary, etc.
Water Resistant Emulsion: suited for water resistant stencils and water based inks for printing on cloth, printing on cloth, printed shirts, rice paper, etc.

Tension Meter


A measuring device for checking the stretch tension of screen.

Screen frames


Single side iron, double side iron: this specific frame is applied for uneven printing product or printing section close to the side, and for delicacy printing.
Thin frame: different degree bending subject to the printed object, solve technical trouble and achieve handy printing.

Sealing tape


Can seal the internal and external of the screen so that the ink will not stay at the edge of the screen and facilitate cleaning. Water based, aluminum foil, blue and transparent tape etc. are available.

Correction desk


For purpose inspection of the film & screen.

Squeegee


It is an important factor in printing quality. Hardness from 60° to 80°. To ensure printing quality, select a proper squeegee based on 1. material, 2. hardness and 3. shape single bevel, central bevel, flat and special squeegee for curve printing are available with different hardness to meet your requirements.

UV Energy-Surveying instrument


UV Energy-Surveying instrument is used to survey the efficiency of UV hardening system and UV light. It is the special instrument to measure the grade of UV hardening.